Join the Team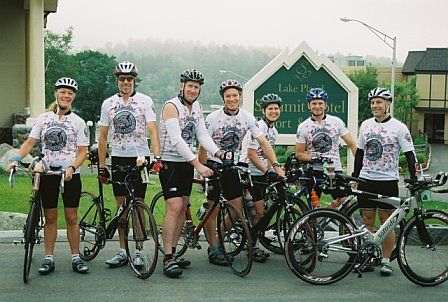 Lifetime Membership is $50.
All current members are now Lifetime members.
New members will receive a Team shirt.
Applicants must send a check for $50 made out to:
Clinton Tebbetts and mail to:
44 Highland Park Rd. North Haven, CT. 06473
Please include Name, DOB, Address, Goal Races and any other important information you may have.
Membership includes:
Shoreline Sharks Team T-Shirt:
The most wanted shirt out there!
Group Workouts (seasonal and based on participation):
Sharks Winter Running Series, Open water swimming, Pool swimming series, Track workouts, Cycling, Mountain biking, Casual running, Yoga, Lake Placid Training Camp and more activities are being planned as well.
Free Swag @ Meetings (sometimes including):
Sharkies Energy Chews, Clif Bars, Clif Shots, Clif Bar Team Decals and Patches, GU, Balance Bars, Go-Mix, Magonate, Emergen-C Drink Mix, Sharks Team Decals, Sharks Team Temporary Tattoos, Sharks Team Pens, Magazines, Books, DVDs, Gatorade and more to come!
Team Sponsors treat us well.
Informative Guest Speakers @ Meetings:
Previous speakers include:
Professional Triathlete Jessi Stensland.
Professional Triathlete Paul Fritzsche.
Professional Triathlete Dom Gillen.
ART- Massage Therapy.
Drew Hess, XTERRA Racing
Chris Treat, box gardening and nutrition.
Swim Coach Bill Phillips from Bill Phillips Aquatics.
Coach Tom Holland from Team Holland.
Coach (and Ultraman) Dave McCluskey from XL Coaching.
Coach Steve Pyle from Tri-eCoach. Former Olympic Cyclist.
Coach Eric Hodska from Eric Hodska Fitness Training.
Coach Pascale Butcher from TRIfitness.
Sean McCann, Physical Therapist from McCann Orthotics.
Coach Chris Dickerson from The Woodbridge Running Company.
Coach Dr. Brian Fullem, Sports Podiatrist from Advanced Foot Care Specialists.
Dr. Anthony Nardecchia from Back Care Centers.
Dr. Brett Carr, Chiropractic Sports Physician.
Robin McCahill, Professional bike fitter from Intuit Bike Fit.
Guy D'Aniello, Massage Therapist and owner of Amity Bikes.
Nina Stachenfeld PhD, Yale Hydration Researcher.
Connecticut Fund for the Environment and Save the Sound.
Coach Vin Lindsley from DNA Training Systems.
Track and XC Coach Ed Berberich.
Bob Kron, Personal Trainer from Center of Balance.
and more!
~Annual Social Meeting is September at Zuppardi's Apizza
~Annual "Yoga on the Beach" Meeting in the summer.
~Annual Ironman Prep/Strategy Meeting
~Annual Team Night Meeting at the Woodbridge Running Company (20% off)
Discounts with our Sponsors:
XTERRA Wetsuits - Up to 50% off. Better discounts than any other promotion, always.
Rudy Project – 40% off.
GU Sports – 40% off.
Amity Bikes - 20% off accessories and 10% off bikes.
Woodbridge Running Company - 10% off (20% on Team Nights).
TriVillage – 15% off.
The Team is approached with opportunities frequently.
Teammates also have access to purchase amazing Team Gear from Champion Systems for running, cycling, triathlon and other sports.
Founded in May of 2003, the Shoreline Sharks is one of the oldest and largest multisport teams in New England. We are a friendly and supportive Team. We are inclusive and not exclusive. We promote a healthy lifestyle and are proud to be Sharks. Join the best.