Hamden Hills Half Marathon & Flat 5K
Saturday May 28, 2022
Registration Coming Soon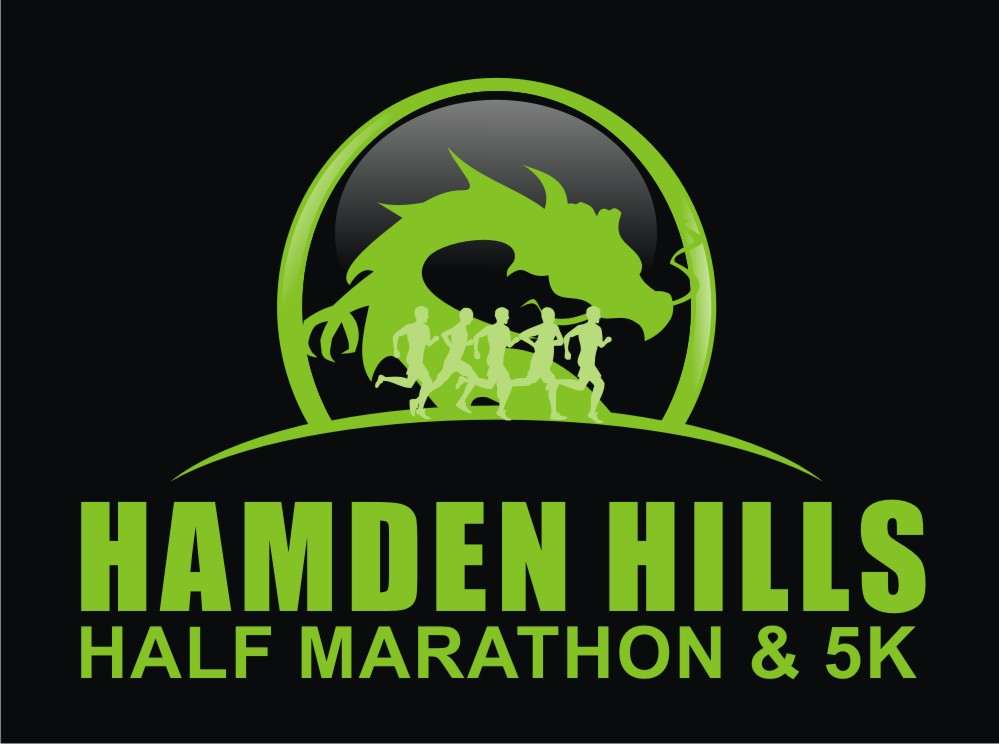 The 10th Annual Hamden Hills Half Marathon and Flat 5K is being held on Saturday, May 28,2022.

Our Half Marathon course is challenging and picturesque as you run through the backcountry of Hamden. The course runs on the Rail-Trail for the first 2 miles and the last 2 miles offering a bit of flat, shady ground to enjoy.
The 5K is 100% on the rail-trail for a flat and fast finish.
Chip timed for accuracy

Half-Way chip mat for Mile 6.65 Split




Short Sleeve Men's and Women's Cut Tech Race Shirts to all entrants

We have a 3:30 time limit which is a 16 minute per mile pace. We ask all who will be finishing between 3:00-3:30 to enjoy an early 7:30am start. This has worked out very well in the past. At 7:30 you just line up and go. Your net time will be calculated automatically.

Custom Finisher Medals for the Half Marathon

Gatorade, GU, Poland Spring Water and Porto-Lets at all Aid Stations (Miles 2.5, 4.5, 6.5, 8.5, 10.5)

Fresh and clean Porto-Lets at the Start / Finish.




Our new Real-Time system allows for award winners to get their award immediately after they finish. Just grab your race receipt from the timing table and bring it to the award table. Results are immediately emailed to you and also streaming on-line

Top 3 Overall (M&F) and in Age Groups: Under 10, 10-14, 15-19, 20-24, 25-29, 30-34, 35-39, 40-44, 45-49, 50-54, 55-59, 60-64, 65-69 and 70+ win a custom race pilsner. (10 year age divisions for the 5K)



Pricing Structure:
10/26/2021 - 3/23/2022
Half Marathon $65
5K $30
3/24/2022 - 5/26/2022
Half Marathon $70
5K $35
5/28/2022 (In-Person Race-day Registration)
Half Marathon $70
5K $35
Cash, Checks, Venmo and PayPal ONLY. NO CARDS!
You may TRANSFER your registration to another athlete until 4/27/2022 for $10. You do this through Active.com. This deadline is FIRM.
You may DEFER your entry to the 2023 Hamden Hills Race until 4/27/2022 for $10. You do this by emailing Defer@ShorelineSharks.com. The $10 will be due in 2023 at registration where you will register in-person. This deadline is FIRM.
NO REFUNDS and NO EXCEPTIONS. Please do not email asking for an exception. NO EXCEPTIONS AT ALL FOR ANY REASON.
The Hamden Hills Half Marathon is Race 2 in the Shoreline Sharks Half Marathon Streaker Series. Athletes who finish the Savin Rock Half Marathon or Marathon (3/26/2022) PLUS the Hamden Hills Half Marathon (5/28/2022) PLUS the Gulf Beach Half Marathon (9/17/2022)

will receive a custom Race Series Hoodie FREE!

Register for the 3-Half Marathon Series Single Entry Ticket and save 15%

The Hamden Flat 5K is Race 2 in the Shoreline Sharks 5K Streaker Series! Finish the Mother Knows Best 5K (5/8/2022) PLUS the Hamden Flat 5K (5/28/2022) PLUS the Gulf Beach 5K (6/4/2022) PLUS the Savin Rock 5K (7/10/2022) and you

will receive a FREE custom Long Sleeve Race Streaker Tech Shirt! You can register on-line or in-person. Finish all 4 and you get the shirt!
Directions
From I-91: Take exit 10 (Rt 40 connector) to Rt 10 North (Whitney Ave) Make a left onto Sherman Ave. From Rt 15 (Merritt Parkway): Take exit 61, Rt 10 North (Whitney Ave) Go for 2.7 miles and turn left onto Sherman Ave. Turn LEFT into the Canal Rail-Trail Lot.
THIS IS ALSO THE PLACE FOR RACE-DAY REGISTRATION AND PACKET PICK-UP
Google Map Link

Race Day Registration and packet pick-up will be at the race start/finish (see directions above.)
The race will start PROMPTLY at 8am!
Click to see the Half Marathon course including elevation
5/28/2022 Raceday Schedule:
6:45am: Registration and Packet Pickup opens
7:45am: Packet Pickup Closes
8:00am: Half Marathon Starts
8:15am: 5K Starts
8:30am: First 5K finishers
9:15am: Last of the 5K finishers are in
9:20am: First finishers for the Half Marathon
11:30am: Final Finishers of the Half Marathon
12:00pm: Race Venue Closed
TRAVEL AND HOTEL ACCOMMODATIONS:
Air Travel
Hamden, Connecticut can be accessed easily from Bradley International Airport in Windsor Locks, CT. (46 Miles away) as well as JFK International Airport (85 miles away) and LaGuardia International Airport, (79 miles away) both in Queens, NY. Bradley will be MUCH easier to fly through and travel to and from the race venue, but the tickets may be more expensive.
Hotels
The best and closest hotels to stay in for the Hamden Hills Half Marathon are:
Whitney Inn & Suites (Half a mile from the race venue)
3400 Whitney Ave. Hamden, CT. 06518
Phone (203) 288-2505
Clarion Hotel & Suites (3 Miles from the race venue)
2260 Whitney Ave. Hamden, CT. 06518
Phone (203) 288-3831