Shoreline Turkey Trot 5K

Thursday November 28, 2024

Thanksgiving Day!

Registration Coming 12/1/2023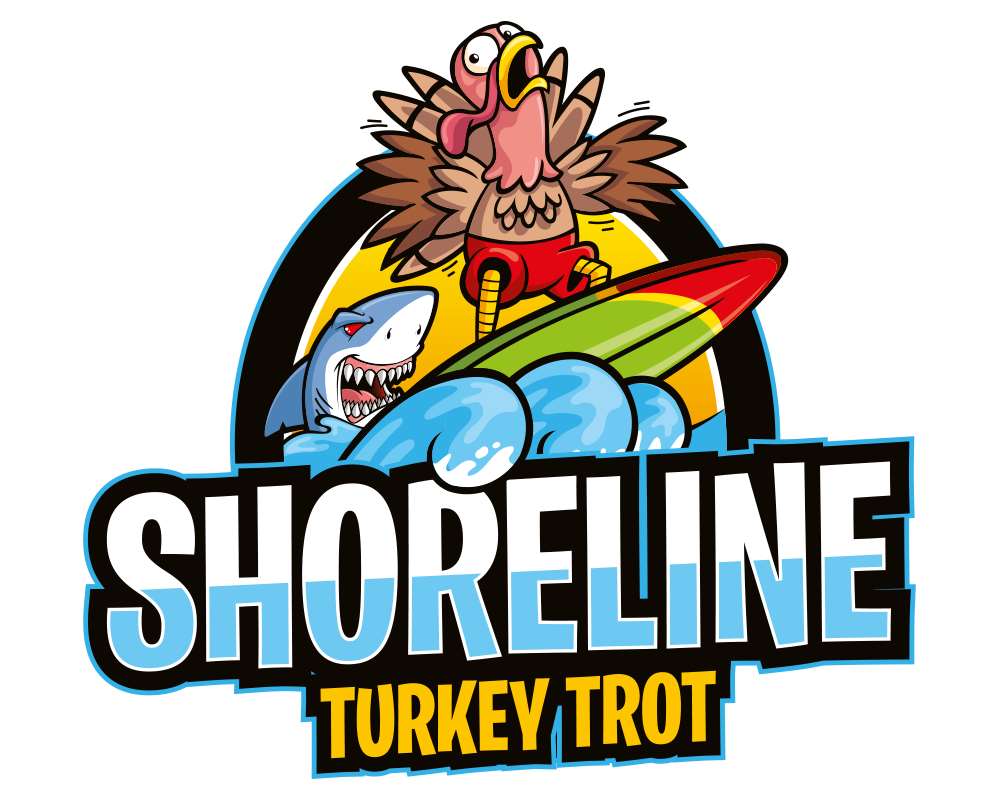 Join us for our 4th Annual Thanksgiving Day Event!
THE COURSE
Flat along the beach on the Savin Rock Boardwalk with nice coastal breezes and the rising sun.
No cars to worry about on the boardwalk!
Venue: 6 Rock St. West Haven, CT. 06516
The Savin Rock Conference Center Exterior hosts registration, Porto-lets, awards, etc. Plenty of parking there and spots next door at Jimmie's. Walk up to the beach side of the building.

THE ENTRANT STUFF
Short sleeve cotton race shirts for all entrants.
Water at the finish line for Finishers
All finishers can grab a "Finisher Receipt" from the timer when they cross the finish line. Award winners can immediately get their awards from the awards table. We do not have an award ceremony. Don't waste the day hanging around for your award.
Custom awards pint pilsner glasses to the top 3 Men and Women overall and in every 10-year division.
CLICK TO SEE THE PHOTOS FROM 2021 CLICK TO SEE PHOTOS FROM 2022 (JMacht)
WE WILL BE HAVING A FOOD DRIVE FOR "W.H.E.A.T." once again.
WHEAT is a food pantry serves low-income residents. They include those who are unemployed, underemployed, disabled, seniors on a fixed income, veterans with limited benefits, and children. We currently distribute food to 5,000 households with 1,000 school aged children."
TIMING AND RESULTS
Transponder Timing and Results with "Gun" and "Net" time

CUTOFFS AND EARLY STARTS
There are no time cutoffs and no early starts for this race.
WHAT IS A RACE SERIES STREAKER?

Since 2014 we have offered a challenge to all who would like to accept. Finish all 3 of our 2024 Half Marathons (The Savin Rock Marathon counts too) and we give you a FREE custom Shoreline Sharks Race Series Streaker Hoodie.
1. 3/23/2024 The Savin Rock Marathon or Half Marathon
2. 5/25/2024 The Hamden Hills Half Marathon
3. 9/14/2024 The Gulf Beach Half Marathon
You can register on-line or race-day, it does not matter. Finish all 3 and you've got it! We will be handing the Hoodies out at the Rail Trail 10K on 10/5/2024 or the Shoreline Turkey Trot 5K on 11/28/2024 or you can pick it up from us in North Haven. We will no longer be shipping them, unfortunately.
THE HISTORY
2021: The Shoreline Turkey Trot Rock 5K was introduced just 7 weeks before Thanksgiving and still had over 200 Finishers.
2022: We began the Food Drive and fundraiser for WHEAT.
2023: Another Food Drive and Fund Raiser for WHEAT and another perfect day in our gorgeous venue!

PRICING STRUCTURE
12/1/2023 - 5/1/2024: $35
5/2/2024 - 11/26/2024: $40
11/28/2024: $45 In-Person Registration (If not filled)
(Cash, Venmo, PayPal, Checks only. No Cards)

TRANSFER & DEFERRAL INFO
You may TRANSFER your registration to another athlete until 10/28/2024 for $25. *This is done by you on-line through Active*
THIS IS A HARD DEADLINE. NO EXCEPTIONS
You may DEFER your entry to the 2025 Race until 10/28/2024 for $25 (via email to Defer@ShorelineSharks.com)
We will confirm via email. Print that email and have it when you come in 2025. You will register in-person, pay $20 and sign the waiver on Race Day. You are guaranteed a spot.
THIS IS A HARD DEADLINE. NO EXCEPTIONS
NO REFUNDS /NO EXCEPTIONS
PLEASE DO NOT EMAIL ASKING FOR AN EXCEPTION FOR ANY REASON. ABSOLUTELY NO EXCEPTIONS AT ALL FOR ANY REASON WHATSOEVER.
If we postpone an event due to uncontrollable circumstance as we had in 2020, we will always honor your registration with a race in the future, but we do not refund.
*Active.com offers an insurance plan for a fee but we are not involved with that. We have no refunds.

RACE DAY
Thursday November 28, 2024 (Thanksgiving Day)
7:00am: Registration / Bib and Shirt Pickup Opens
7:45am: Registration / Bib and Shirt Pickup Closes
8:00am: Race starts
8:20am: First Finishers
9:20am: Final Finishers
9:30am: Venue Closed
Savin Rock Conference Center (on the beach side)
6 Rock St. West Haven, CT. 06516
Bring photo ID

DIRECTIONS
I-95 Exit 42 Saw Mill Rd, West Haven
From North or South: Turn RIGHT at end of ramp on to Sawmill Road, to Wagner Place, to Kelsey Avenue. (the three roads are actually one road that keeps changing its name) Travel from the exit about 2.2 miles to the last intersection (Captain Thomas Boulevard and Kelsey Avenue). The Savin Rock Conference Center will be directly ahead on the right, next to Jimmie's Restaurant.